Flight options to B,SA,Z
I was going to wait on this since we are still a little over a week outside the 330 day booking window for all but one carrier, but that one is showing a great price and I usually book at the earliest opportunity for price and best seats so need to make a decision pretty quickly.
So here is the deal, we are on the 25 May 2019 departure of B,SA,Z and plan to arrive in Livingstone two days early on 23 May. We don't live near a major overseas feeder airport, but can drive to Raleigh (RDU) or fly or drive to Dulles (IAD) (no direct flights and routing via Charlotte, flying takes about the same time as driving to IAD!?!?), and can only fly to Atlanta (ATL) or NY, Kennedy (JFK.) We fly business class and value short en-route times, fewest connections, and good lay-flat seats in 1 - 2 - 1 arrangements (when we can get them, so we both have aisle access), over cost, though cost is always a consideration.
So my choices:
Delta
is our preferred carrier. We have miles but not enough for this trip. They have a direct flight from ATL to Johannesburg (JNB) – no Heathrow (LHR), Amsterdam (AMS) or other European connections- but it arrives too late to connect to Livingstone (LVI) so we would have to spend the night in JNB before flying British Airways (BA) or South African Airways (SAA) to Livingstone the next morning. The return flight has a layover in AMS. They have good business seats, but in a reverse herringbone with feet pointing towards the aisle. By far, Delta is the most expensive.
Ethiopian Airlines (ET)
out of IAD. Some of you may remember me talking about ET- we had a great experience flying them to K&T. The flight leaves in the morning so we would need to drive or fly to IAD a day early. ET's fare is also the lowest and enroute time the shortest with only one stop in Addis Ababa (No stops in LHR, AMS, etc.), but only if we take a chance on a 35 min connection in Addis Ababa on the homeward bound leg! I've been in the airport and their published minimum connection time is 40 min. so I know it is possible, but very risky. Their next itinerary with longer connection time adds a stop in JNB, but it pushes the fare up with SAA and more than BA. Their business class seats have a great amount of room but are arranged in a 2 – 3 – 2 so only one of us would have direct aisle access. The other negative is the flight terminates at Victoria Falls Airport (VFA), Zimbabwe not LVI, Zambia, and Tauck won't provide a transfer from VFA to the Royal Livingstone Hotel, probably because it involves a border crossing. ET is less expensive than Delta.
South African Airways
from IAD. The flight departs later in the day so we could drive or fly to IAD on the day of departure. The flight is direct, IAD to JNB. Due to arrival time, an overnight in JNB is necessary, but we would be through-ticketed on SAA to LVI. The return flight is Cape Town (CPT) - JNB- IAD. Both outbound and inbound flights have very short, 1 hr fuels stops, in Accra, Ghana, but no deplaning. The long haul segments are on almost new Airbus A330-300's with nice, new, lay-flat seats in a 1 – 2 – 1 arrangement, so both of us would have aisle access. They have nice large, hi-res IFE screens, too : ) SAA is slightly less expensive than ET.
British Airways.
I couldn't believe this but BA is the least expensive. Since the BA flight with the good fare and shortest en-route time leaves early in the morning we would need to fly to and spend the night before at JFK. All BA flights connect through the dreaded Heathrow- the flight with the best flight times has a layover there of only 1 hr. 40 min. but all other BAA flights have outrageous layovers in LHR of 7 or more hours. To quote British from an old thread, "Absolute minimum of 2 hours (connection time) is needed at Heathrow." But the real killer is that BA flies relatively old Boeing 747's on this route with the absolute worst business class seats possible!!!! (I know, picky, picky, try coach). The business class seats are lay-flat, but half of them face backwards on both main and upper deck. Direction is a no biggie for me, but unless you raise the privacy divider you will be face-to-face with another passenger, likely a stranger. Also, when aisle passengers are reclined or have lowered their footrests they block access to the aisle for others. The privacy dividers must be lowered for all take-offs and landings and when a flight attendant takes an order or delivers food or drinks. Everything must be passed over top of aisle passengers. Check out this video for a better description: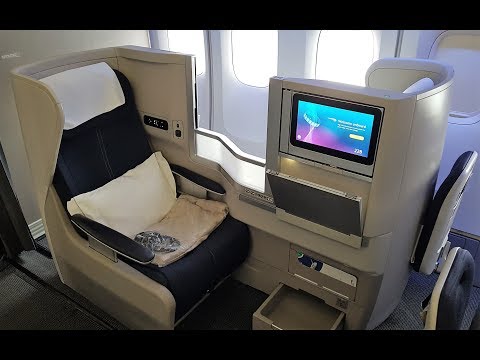 My wife does not want to fly in this aircraft.
Unless something changes in the next two weeks, we plan to book SAA. Even though we will need to spend a night in JNB it will be at the end of all long flights, no pre-stay at Dulles like needed for the ET flight or at JFK for the BA flight. We will arrive in JNB around 5 pm and our flight to LVI doesn't depart for LVI until 10:50 am, so we should be able to get a good night's sleep at an InterContinental Hotel, just yards from the terminal entrance, and be ready to hit the ground running so to speak upon arrival at the Royal Livingstone.
We would normally have our bags checked through to LVI, but that would mean taking a small carry-on bag with clothes, toiletries, etc. to the hotel AND trusting that our luggage will be safe overnight at the airport (where?)- a BIG CONCERN in view of the history at this airport!!! I hope we can check our bags though to JNB only, and pick them up before heading to the hotel.
So, please feel free to comment on any option. I especially would like comments from anyone who has taken this flight and spent a night in Jo'burg- what did you do about your bags? Thanks.