Great Yellowstone in winter!! UPDATED 2/16
We arrived home a few hours ago. See my next post below for a trip report with observations, recommendations, and, of course, a few more photos. Here are some teasers:
"Snow Coach"
Bighorn sheep:
Elk:
4° F below zero seems quite cold but one morning it was - 14° F!!!!
This bison shows the effects of the near blizzard conditions that had been going on for some time during one excursion. Often you will see bison with snow just on their heads- left over from using their heads to "dig" in the snow to expose grass to graze on.
Our driver said this was the first time in several weeks that the mountain range (Tetons?) in the distance was visible from where we stopped!
It was not rutting season, so these two bull elks were just practicing.
Some of the snow-covered vistas were surreal with either low clouds, fog, or steam from geysers and fumaroles floating through the air or freezing on and coating nearby trees with "frosting."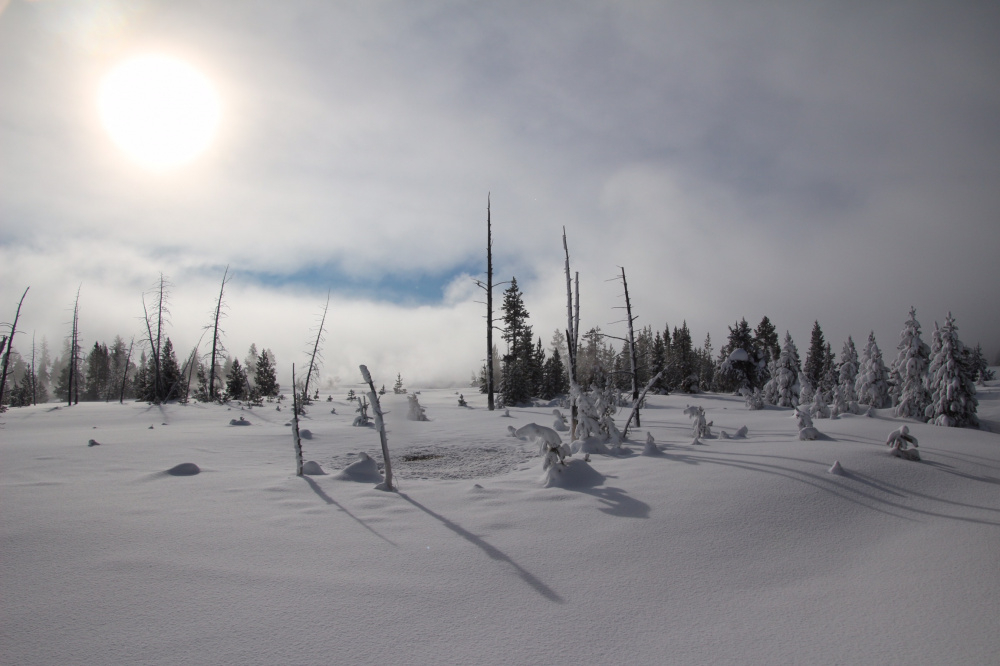 The majestic Grand Tetons!
We often had to share the road with small herds of bison. We would just sit and watch as they casually lumbered by. Sometimes we had to wait them out awhile.
They were often just a few feet away when they passed by.
Except for the farewell dinner that evening, Day 7 was a completely free day. There are a number of activities you can do in Jackson- free ones on your own and paid ones, booked directly or through the concierge at the Wort - shopping, skating, skiing, snow tubing, snowmobiling, dog sledding, etc. We booked a full day dogsled trek several months ago. It was great! Book popular activities (snowmobiling, dogsledding, etc.) early, don't wait until you get on tour.
This is Maverick. At barely two, he was the youngest of the 12 dogs on our sled line, and like his namesake from the movie "Top Gun," he kinda danced to his own tune. Annie, our driver (not "musher", a term she explained, that is used primarily in popular culture, Wiki, the movies, and by tourists), would regularly give him more encouragement than the other dogs (all of whom had names she knew well), by saying, "Maverick, stay focused, Good job," etc.). But the effect usually didn't last long. He was easily distracted and found it necessary to repeatedly mark the snow berm along the edge of the trail, yet, all the while, pulling his share of the load. He also had an incredible talent to run briefly on just his front legs, while scrunching up his hind legs, so he could do his "business" without breaking pace!- no "bathroom breaks" for these guys! Annie used a number of brief word and non-verbal sound commands, issued in a calm, steady voice, to control the team, but "mush" wasn't one of them! e.g. "Gee" = turn right, "Haw" = turn left and to get the team to go she just said, "all right." No shouting, yelling, or (Oh my gosh) absolutely no whip!!! The Grinch could learn a thing or two!
We had beautiful weather for our dogsled trek.
We chose Jackson Hole Iditarod Sled Dog Tours and this trek because at the turnaround we were provided a hot lunch and had the opportunity to swim in a Forest Service operated thermal pool! The air temperature was probably a fridgid 15° F but the water temp was over 100° F and thankfully there were heated changing rooms.
The Grand Canyon of Yellowstone
Leave a Comment