We're Here!
We left San Diego on June 8 and arrived Tanzania on June 10. Our routing was pretty bizarre, LA to Istanbul to Dar Es Salaam and finally Arusha. Arusha is a "regional" airport and that description is being kind. The baggage pick up was a red wooden table and the passenger arrival area was a tent with folding chairs. Pretty quaint.
We were picked up by Tauck's representative, Richard, and he will be one of our drivers on the tour. There are 17 on tour and I think he said 4 vehicles. We drove through the town of Arusha and there is absolutely nothing to do. So, bring a book, download some movies and prepare to hang out. There is a pool, sauna and gym at the hotel. Richard said that last year Tanzania had almost no tourist season and the locals are thrilled to have people coming again.
The hotel is only a year old and very nice. WiFi connection and USB ports. The room is large and there is a balcony to sit out on. The grounds are beautiful, the staff is friendly and helpful. We discovered a small artist workshop, Sanaa, located just off the grounds of the hotel. The artists are disabled adults from the community who have been trained in skills such as sewing, weaving and glass blowing. We were given a tour of the workshop and introduced to the artists.
Our luggage didn't make our connection in Istanbul. Luckily, I had asked our TD for
his phone number before we left, so I was able to contact him via What's App and he was very helpful. Just found out that our luggage made it to Kilimanjaro and a rep from Tauck is picking it up for us. Oh happy day!
There is a roof top restaurant where we had lunch and the breakfast buffet was very nice. Weather is perfect for touring, cloudy and mid 70's. Just right!
We just found out that Covid tests are no longer required to enter the US, so that takes the stress off of finding out you can't go home. No one is wearing a mask. Very few people wore them on the plane. We were one of the few wearing masks.
We start out tomorrow for our first adventure!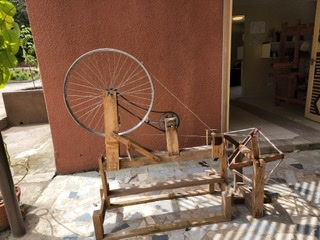 Leave a Comment